Where is Silver headed?
By Robert Keintz
Silver is the forgotten metal right now for most people. There is a strong, growing interest in gold and gold stocks. But you don't see as much attention to silver in market commentary. While you find gold commercials on television and radio, silver is kind of that metal that everyone pushes to the side.
Case in point: This weekend I was scouting stores for silver, and asked one of the jewelers why he didn't carry more silver jewelry. His answer: "Because it's too cheap!"
That makes sense from a salesman's perspective, but does it make sense for investors to take the position that silver is not sexy?
I think the fundamentals point out that silver is not an inferior metal. As I wrote recently, silver's upside potential is very stout due to supply and demand factors. We know that silver stockpiles are down 95% from the 1950s.
We know that silver has industrial qualities that are unique and not easy to replace. We know that jewelry demand in silver is strong. And we know that investment demand in silver is also very strong. We use more than we can mine on a yearly basis.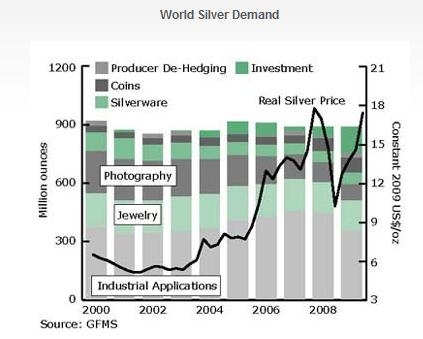 Inflation of Money
Recent articles have pointed out why the prices of commodities, and in particular gold and silver, are rising.
Peter Degraaf, with 50 years experience in commodity and stock trading, notes that inflation had a one year pullback, and then promptly resumed its upward course. This, of course, raises the price on all commodities.
The Money Supply is increasing, according to the Ludwig Von Mises Institute.
Read more: click here